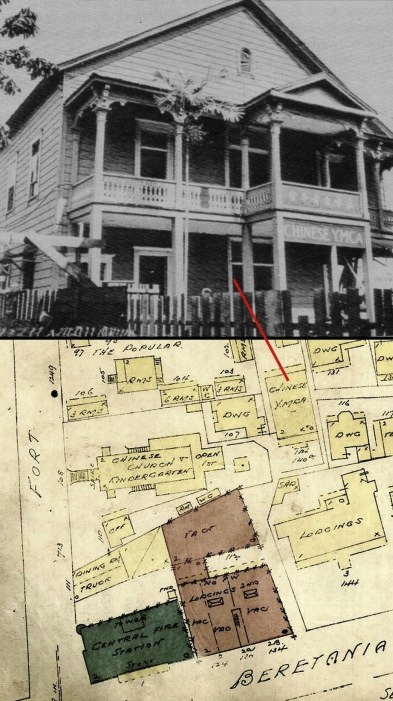 The Chinese YMCA
was located behind the Fort Street Church now occupied by the South end of the Pali Highway. It has since then changed its name to the Chinese Christian Association.
In 1877, inspired by the ministry of Sit Moon, a group of Chinese Christians founded You Hawk Jihu Taw Hui (the Beginning Evangelical Society of Learners) also known as the Chinese YMCA.
In 1926, after deciding to move the church out of Chinatown to the new site at Makiki on King Street at the old Grandville Hotel property and the membership voted to sell the Fort Street property for $65,000 and buy the new site for exactly the same amount.
During the interim period of a year and a half, we borrowed the use of the Chinese Y.M.C.A. meeting hall next door to the Fort Street Chinese Church for worship. Sunday School was held at the Nuuanu YMCA.  It was during this particular time that many of our Church records were destroyed due to a disastrous fire.  
The congregation would worship there until June 1929, when the new King Street location was dedicated.
Side Note: The alley to the right of the Red building on the map marks approximately where the Southern end of the Pali Highway begins.