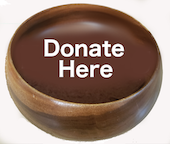 An introduction to E-Giving
We appreciate automatic recurring transactions that support FCCC even when you're unable to attend in person. You can participate remotely through e-giving and watching our webcasts at anytime!
Making up for unattended Sundays via recurring automatic donations, supports the church in a way that far surpasses the small fee that the church incurs for e-giving transactions.
You can optionally help offset the small e-giving transaction fee.

Bank Transactions: 1% + 45¢ per transaction
Credit or debit:   2.75% + 45¢ per transaction
Donating directly from your bank account instead of using a credit/debit card incurs a smaller transaction fee.
Adding the small transaction fee to your donation is itself a donation to our administration because it saves the  church the labor, time, and cost involved in processing cash, checks, and envelopes.
E-giving is the most secure way to donate. However, we encourage donors who prefer writing checks to continue doing so. Choose the giving style that's right for you!!
Our church is now offering an optional method of giving our offerings which is more compatible with how many of us spend our money nowadays, especially those of us who do not normally carry or use cash or checks, preferring to use credit or debit cards, or direct transfers from a savings or a checking account.
Besides the traditional method of giving using cash or a check each time we attend a worship service, the new option will allow us to give using a credit card, debit card or automatic transfer from our bank account.
It is called e-giving and it is a secure and convenient method of giving our offerings through our church website or church facebook page, through a mobile device app. This is especially important in these days, when people may want to attend church remotely.
One option that e-giving provides that we might want to consider is recurring donations. By selecting this option, we decide how much we want to give then set it up to automatically repeat the donation weekly, bi-weekly, semi-monthly or monthly. Just as we automatically pay our utility bills or cable television, the amount that we decide on will then be automatically debited from our bank account or credit card.
As you know, there are many expenses in keeping our church up and running including the providing for our pastors, other employees, for repair and maintenance of our facilities, and for program expenses each month. One concern about using the e-giving service is that the church will be charged a small processing fee for each transaction. In many churches already using this service, most people using e-giving opt to pay the processing fee themselves in return for the convenience of using the online service and to make sure that their churches receive their full offering. Furthermore, automatic recurring donations more than compensate for the transaction fees because the average donor misses several Sundays per year, and the donors' gifts are received even on those Sundays when they don't attend. You can also call the church office at 593-9046 if you need extra help. Thank you.