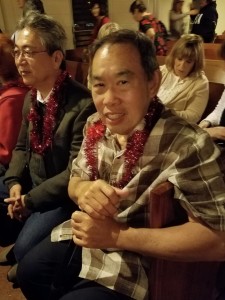 This Saturday, October 24, 2020, the First Chinese Church will be hosting a Celebration of Life Webcast for the Reverend Doctor Grant S.C. Lee, son of Harry and En Jin Lee, who grew up in our fellowship until he was ordained and distinguished himself in pastoring three UCC churches on O'ahu as well as serving as an Associate Conference Minister for the Hawaii Conference UCC.
If you wish to join us in on his celebration of life, you are welcome to click on 
It will be available at any time beginning this Saturday and if you miss it that day, the webcast will continue to be available when you can join us.   We also encourage you, when you enter to sign in and share your thoughts and memories of Grant with his family.
Here's a note from Pastor Choo Lak:
"Grant Lee was called Home to glory on July 28, 2020 after many years of serving our good Lord with distinction in Hawai`i and beyond.   It was the joy of First Chinese to have played an influential role in Grant Lee's journey of faith who grew up in First Chinese. Truly a son of First Chinese, Grant Lee is First Chinese's contribution to the church's mission at large.  I first met Grant Lee in 2002 when I moved to Hawai`i. He was then an Associate Conference Minister.   When I was the Executive Director and Dean of the Henry `Opukahaiha Center running the Master of Divinity degree from the Vancouver School of Theology, Grant Lee greatly  helped me by mentoring the Master of Divinity students, a vital role he played in enabling several students to graduate and then to serve churches in O`ahu."