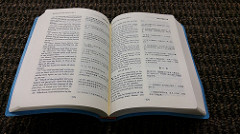 This plan takes you through the entire New Testament in a year, studying one chapter per day, five days a week.
Click on the passage under today's date to read today's scripture reading.  You can also review older dates in case you fall behind or look up future dates to stay ahead.
Note that we are using the World English Bible and the Chinese Union Simplified Version because they are both in the public domain and therefore legal for us to copy and use here.
All Scripture is God-breathed and is useful for teaching, rebuking, correcting and training in righteousness,   
2 Timothy 3:16 NIV