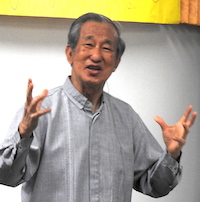 The Reverend Dr. Choo Lak Yeow moved to Hawai`i in 2002 to be close to his US Navy son, then stationed at Barber's Point. He is a kahu in the Hawai`i Conference United Church of Christ with standing in the O`ahu Association, responsibly and quietly advocating radical inclusivity.
His wife, Geok Lian, [retired] resides in Beaumont, California.
His son, Kim Lak, lives in San Diego, California, with his wife, Cynthia, and 17-year old daughter, Lyanna.
His Oxford-educated doctor daughter, Mei Ean, works for Mayo Clinic in Rochester, MN, with her radiologist husband, Jeremy Collins, and their 9-year old Chester Choo and 7-year old Bento Leong.
When Choo Lak was eighteen years old [still wet behind his ears], in response to the altar call for believers to surrender their lives to serve God in the ministry he shyly responded to and totally surrendered his life to God's service for life on a wet, sultry monsoon evening of December 18, 1956, at a public Evangelistic Rally conducted by the Methodist evangelist, the Reverend Stanley Jones, on the grounds of St Andrew's Cathedral [Anglican], Singapore. Some sixty three years later, Choo Lak gratefully understands his humble response to the altar call as his own still-wet-behind-his-ears as long as he lives, he is lent to the Lord. 1 Samuel 1: 28
After humbly responding to God's call to the Ministry, he earned, in 1958, a Licentiate of Theology from Melbourne Divinity School, Australia [externally] and in 1961, a Bachelor of Theology from Trinity Theological College, Singapore. In the same year, he won a much-coveted scholarship to earn his Bachelor of Arts, graduating with Distinction in 1964 in New Testament Greek from Cambridge University. In 1965, this was followed by a Master of Sacred Theology from Union Theological Seminary, New York City and then a Master of Arts in 1968 from Cambridge University, and a Doctor of Theology in 1971 from the Graduate Theological Union, Berkeley, California.
To finance his doctoral study, Choo Lak served as a Teaching Assistant in Intensive Greek in San Francisco Theological Seminary, from 1966 to 1968 while working as a produce clerk in Safeway Supermarket in Mill Valley and San Anselmo, Marin County, California, twenty hours per week during term time and full time summers.
In March of 1969, Choo Lak returned to Asia to serve as the minister of The Presbyterian Church in Penang, Malaysia until 1972.
He taught in and was Dean of his alma mater, Trinity Theological College, Singapore, from 1972 to 1981.
He served as the Executive Director of The Association For Theological Education in South East Asia [ATESEA], networking with ninety-four Presidents of Seminaries in fourteen countries in South East Asia from 1981 to 2002.
At the same time, he was also the Dean of The South East Asia Graduate School of Theology running the Master of Theology, Doctor of Pastoral Studies, and Doctor of Theology programs and served as the Editor/Co-Editor of The Asia Journal of Theology.
He was a Member of The Faith and Order Standing Commission in The World Council of Churches from 1981 to 1996 and was a visiting Professor in Siatoutai Theological College, Tonga in 2008.
From 2003 to 2004, Choo Lak served as Interim Pastor of The Church of the Holy Cross in Hilo and served as the Executive Director and Dean of the Henry Opukaha`ia Center For Pacific Theological Studies from 2004 to 2007.
In 2005, he served as Interim Pastor of The First Hawaiian Church in Kapa`a, Kaua`i. From 2013 to 2015, he served as Interim Pastor of Ewa Community Church.
From 2015 to 2016, he returned to be the Interim Pastor of The Church of the Holy Cross, Hilo, and as of 2019, serves as the Interim Pastor of The First Chinese Church of Christ in Hawai`i.
Choo Lak had served summer pastorates in Iona [Scotland], Whickham, and Rochdale [England], 1962 and 1963 respectively, in Lake Piedmont, Ohio, 1964, Camp Lake Elko, Catskill Mountains, New York, 1965, and Russian River, California, 1967. He was guest preaching in Asia, United Kingdom, Europe, Pacific Islands, Australia, New Zealand, and Mainland America, 1972-2002. He also did Pulpit supply in the Cathedral of St Mary's and St John's, Episcopal Church of the Philippines, Quezon City, Philippines, 1998-2002.
Choo Lak is also the author of twelve books including 'Being Reformed Christians in Asia Today'(1994), 'Bent Over No More: A Meditation on Luke 13:10-17′(1997), 'Doing Theology with People's Symbols & Images' (1989), Equipping the Saints in the 1990's I: Theology and Communication' (1990), 'Doing Theology with Religions of Asia'(1987), 'Sunny Island'(1990), Time for Action: Theological Education for Asia Today' (1988), 'Doing Theology with Asian Resources: Theology and cultures'(1993), and 'Challenges and Opportunities in Theological Education in Asia' (1988).